Abi Nareshkumar, Farabi Bashar, Simran Munde, Pouriya Jafarpur, Mohammad Fazeli

Zero Energy Building Design Project: TRCA Satellite Visitors Centre and Office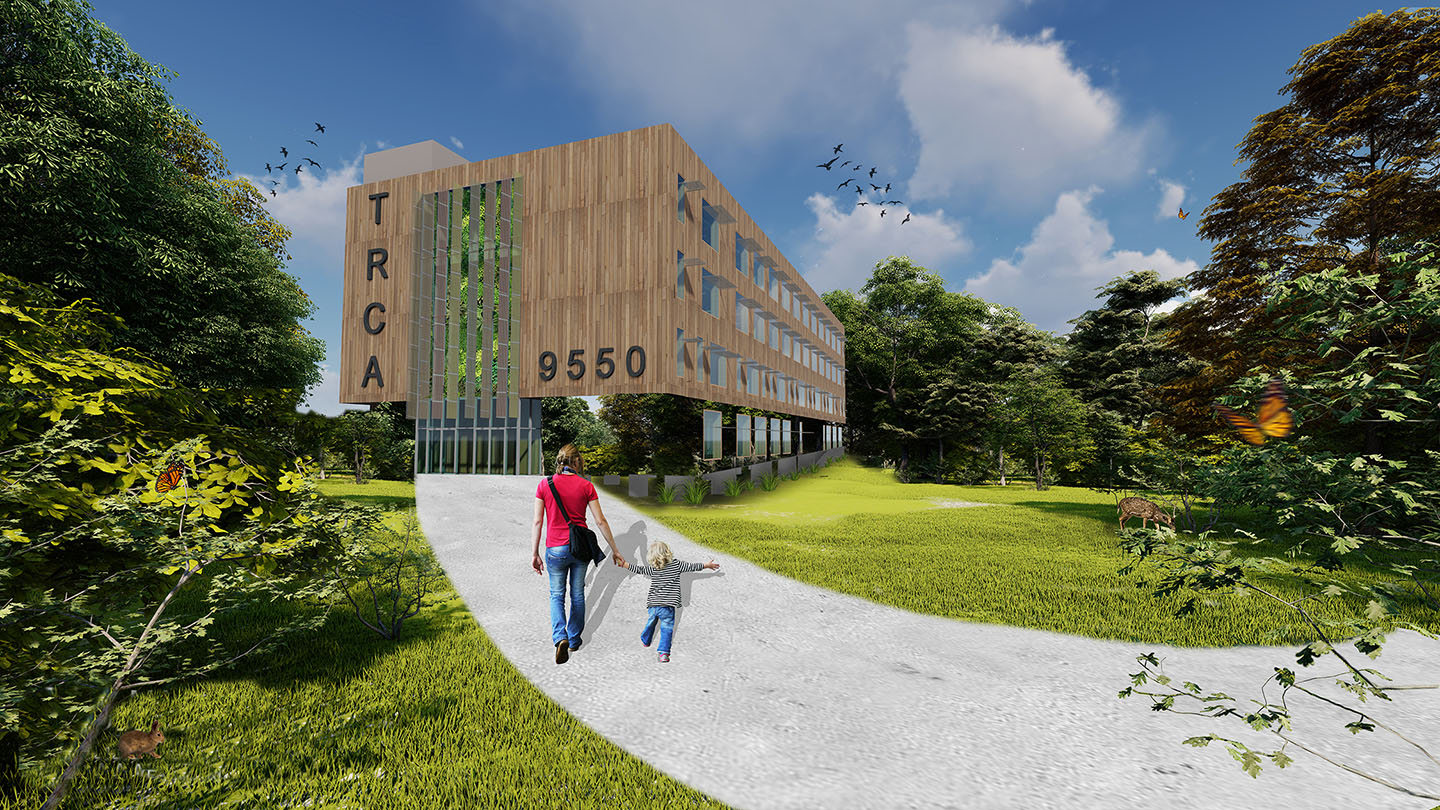 As the Second Place winner for the Office Division of the
2021 Solar Decathlon Design Competition
, this project proved to be resilient in being a self-sustaining Net-Zero office building. The TRCA Satellite Visitors Centre and Office is located in Vaughan, just north of Toronto at the edge of the city. It is within the Kortright Centre surrounded by pristine woodlands. This building shares surplus energy and water with the surrounding buildings to create a sustainable community. The vision of the project presents a minimal impact approach in relation to the surrounding site.
The form of the building is elevated on pile foundations, creating gentle impact and sitting lightly on the land. The goal is to set an example for future developments to follow the principle of modular design, where building components are made from modular parts for assembling, to be used to their full potential, disassembling when necessary, and finally recycled and reused. Key features of the project include mass timber construction, prefabricated modular envelope panels, a living machine, photovoltaic arrays on the roof and parking lot, a DOAS + ERV/ ASHP +VRF system, open concept workstations for promoting collaboration, optimizing for daylight use with southern exposure, light shelves, and a grand skylight crowned on top of the central staircase. One major design goal that was set and achieved includes focusing on occupant health and wellbeing.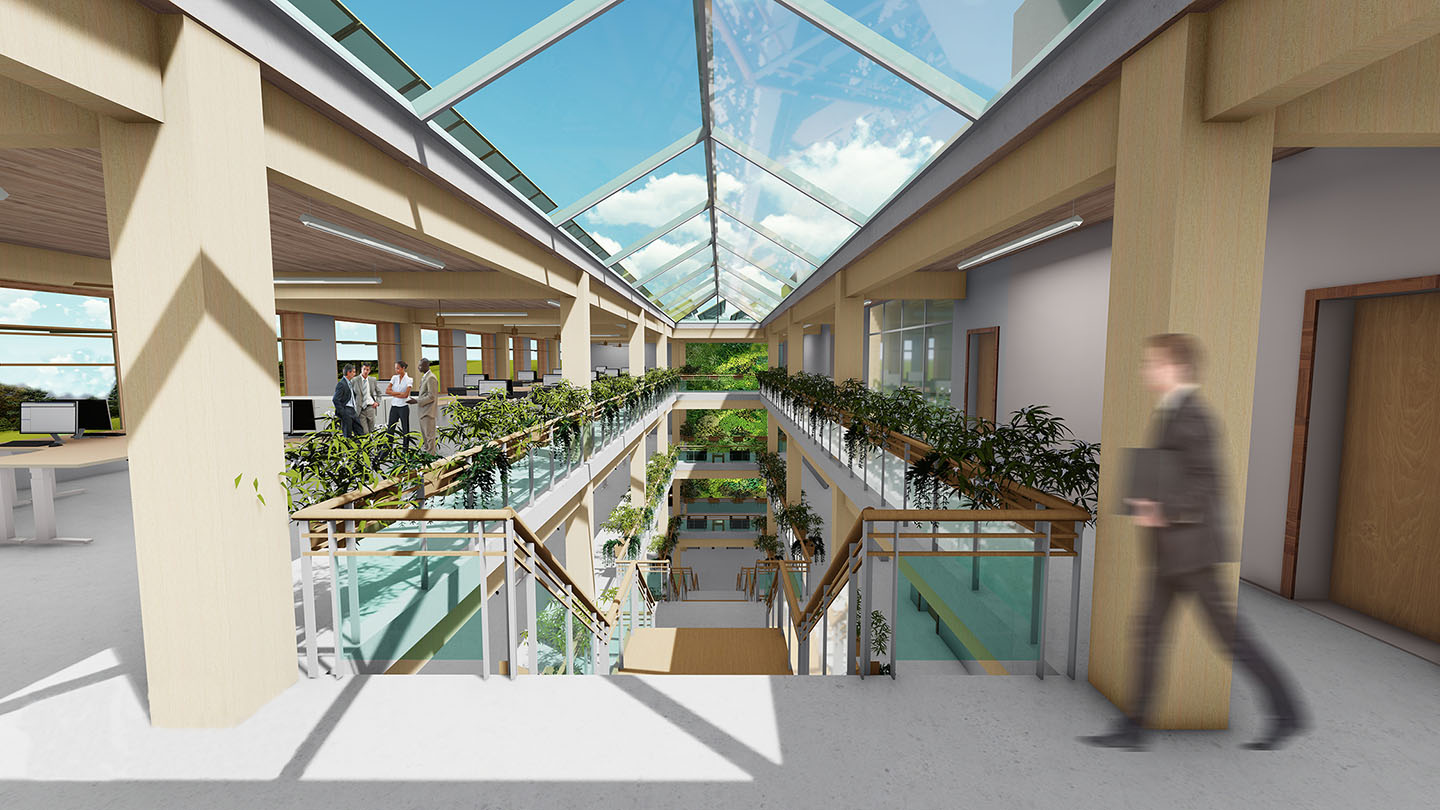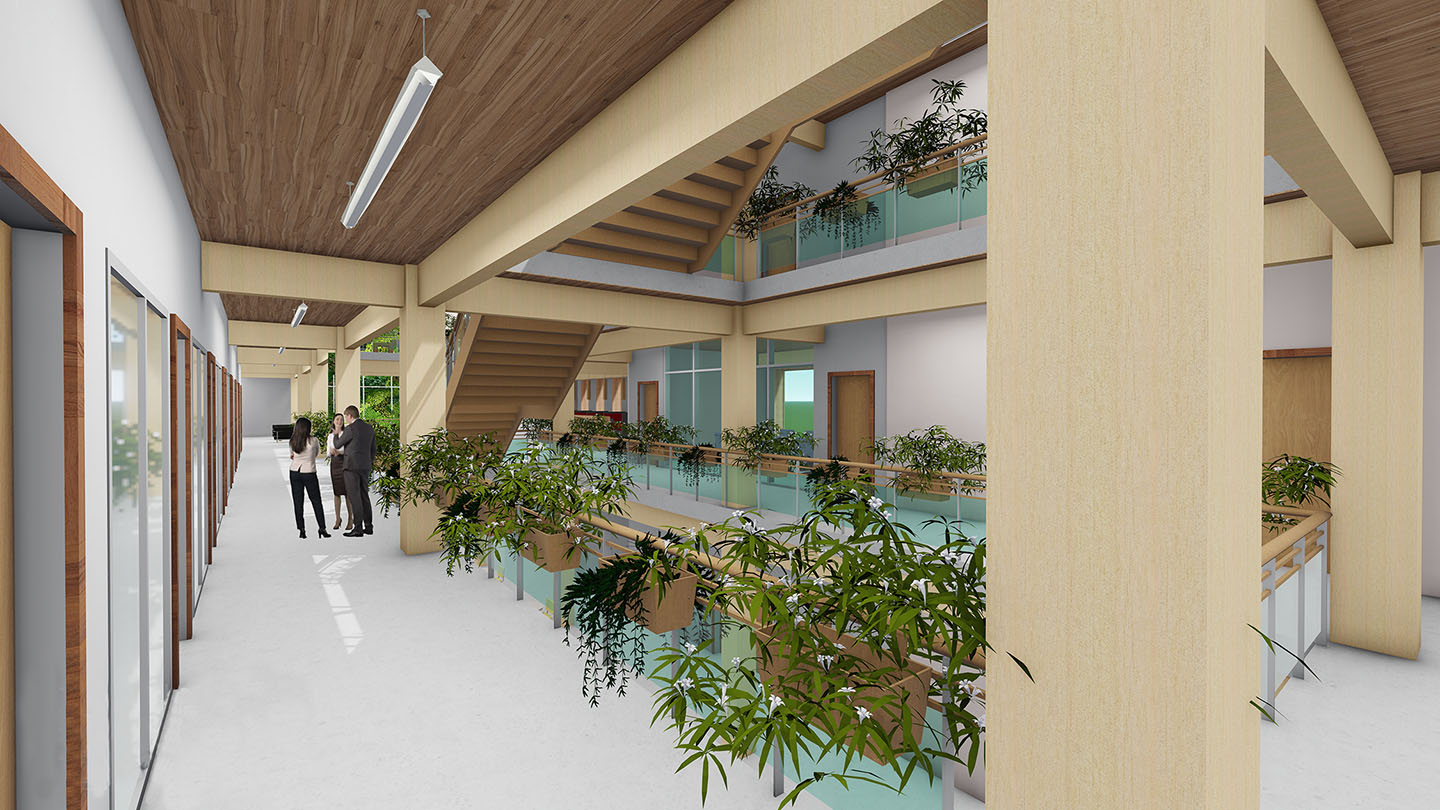 Noel Kristen Cochon, Steph Tzanis, Ghazal Sonboli, Keziah Folarin-Babatunde, Shirin Golkarieh


Zero Energy Building Design: Retrofitting a City School

Retrofitting a City School approaches the restoration of the 100-year-old Our Lady of Perpetual Help Catholic Elementary School as an example for many heritage schools throughout urban centres. Our project came in 2nd place in the elementary school division of the 2021 U.S. Department of Energy Solar Decathlon Design Competition.

The design preserves the school's historic brick masonry by insulating to the interior, adds a two-storey extension to the south, and creates a welcoming entrance via a sunlit atrium. Beyond addressing existing issues, the design is aimed at Toronto Green Standard Tier 3 performance standards, and achieves net-positive energy consumption.

The design highlights the use of mass timber with glulam and dowel-laminated timber in new construction, vapour-open masonry wall assemblies, and minimal thermal bridging across the building envelope. Design also minimizes water consumption with rainwater recycling from rooftops and permeable pavements, and wastewater recycling with an on-site Living Machine. The building specs mixed-mode ventilation via a dedicated outdoor air system (DOAS), supplemented by operable windows in all rooms. The large sports field allows for geothermal energy exchange; a ground-source heat pump sends heat to the spaces via radiant flooring throughout. Fan-coil units are installed in select spaces needing additional cooling. Photovoltaic (PV) panels are installed on the large roof and a parking shading structure, and building-integrated PV (BIPV) cladding is used for the extension facade, maximizing potential electricity generation. Excess energy is sent to the grid to generate additional revenue. All energy efficiency strategies throughout the design also function as learning opportunities for students to better understand and practice sustainable design.