CAROLINA RAMIREZ TENORIO & ALVIN HUANG
Idea Exchange — Parkdale pt. 2

This project is a continuation of the Idea Exchange originating from ASC520. The second phase explores the design development of the project with further exploration in design synthesis. The library stands as a gateway for the neighbouring communities to exchange ideas. Fluid circulation animates the ground floors as a community center, whereas above holds the main library stacks.
The form accentuates unique moments found between the stacks of the library. The idea exchange evolved from the 'library' to become more than just a place that houses information; it has become a collaborative space where users can simultaneously learn and create.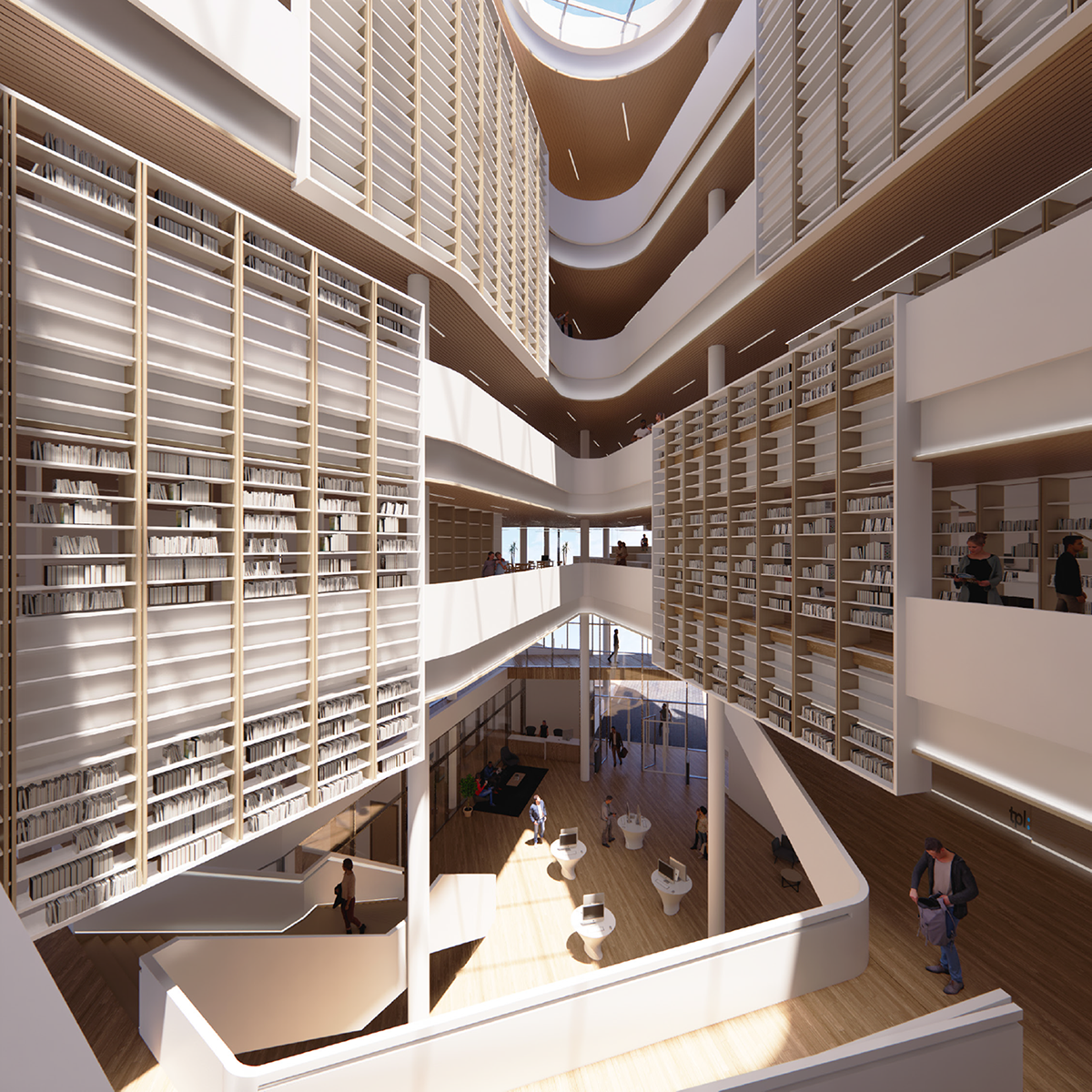 In a library today, the constant flow of information shared not only from books, but also from digital mediums of our technological era.
Moreover, the increase of information inspires an application for the knowledge, whether through creation, presentation, or conversation. Thus, the renovation of the library typology is much needed to fit the ever growing minds of humanity. The inclusion of a gateway library on Queen Street and Sudbury street activates an interactive space which links the contrasting neighbourhood split by Dufferin Street.
The careful consideration of circulation and ample public space animate the node as a space for gathering and conversing. The combination of spaces to learn and places to create in maker spaces, invites users to not only ponder, but to experiment with their ideas. In addition, transparency within pathway fluidity throughout the site and library create the building as both a place to share ideas as well as a gateway into more public spaces of the city. Furthermore, the emphasis on sustainability through features such as cross ventilation, traversable green roofs, and passive cooling showcase that architecture can be both beautiful as well as helpful for the environment. The architectural gesture of the massing mimics the moments seen between stacks, where minds are immersed in an idea exchange through reading. These fruitful moments are evident in the program of the library and are divided by vertical planes of the walls expressed in the form.