GENERAL UNDERGRADUATE (OPEN TO ALL YEARS)
Marwa Al-Saqqar—Jason Fung Architect Diversity Award

About the Award
This award provides some financial support to students who identify as BIPOC and demonstrate commitment to promoting equity and diversity within architectural science or using architectural science to serve and represent BIPOC communities. .
---
I grew up in a family and culture that centers community engagement and service. This flowed into the work I am involved in within Architectural Science and with the community —with a focus on youth engagement in racialized and low-income neighbourhoods. Education is a privilege, especially in the design industry, and these socio-economic barriers limit opportunities that future generations can access. With that in mind, I continue to find any possibility to engage with k-12 youth by using the skills they have learned at the Department of Architectural Science (DAS) to give back to the community by co-creating inclusive BIBOC spaces and providing possibilities to guide systemically marginalized youth to the STEM fields.
Since my first year, I have been involved with Freedom By Design (FBD), a student-led community service program that aims to radically impact the lives of communities. The first FBD project I co-led was a multi-phase project with Church St. Public School, which needed to revitalize its playground to create an outdoor collaborative learning space. With the support of a passionate BIPOC-led community, we beautified the pavement with painted games. I also facilitated interactive workshops with the elementary students to teach them design and fabrication processes to create stencils that were used to paint the pavement with. This allowed the children to engage and see their own work implemented into the playground. This was one of my first experiences in organizing youth engagement design workshops, and that ultimately became a catalyst for many more in the future. Through directing FBD, we continued on to design immersive play pieces that will be built in the near future. FBD has also expanded in providing relief services and mutual aid support during the pandemic as well as working with TDSB to create a mentorship program where we can engage with high school students from racialized, low-income, and newcomers communities interested in post-secondary STEM opportunities.
Meanwhile, within DAS, I sit as a member of the Equity Diversity and Inclusion (EDI) Task Force, where I assisted in building its foundations in its first year. Currently, in the EDI Task Force, we are planning a series of initiatives that provide new perspectives and opportunities for the department to diversify the culture and community fostered within. I also had the privilege of co-leading the department's first-ever Minecraft Camp to engage elementary students in design, collaboration, and problem-solving through an accessible gaming platform. This allows us to reimagine the ways we can introduce STEM to students experiencing limited access through more inclusive and accessible methods. I am also taking my experiences in Architectural Science and applying them at Design As Protest (DAP) by organizing and creating Design Justice curriculums and providing teach-ins and studios that focus on architecture and design through an equity-based and social justice lens.
All in all, I see myself responsible for taking the privileges and skills I had through my time in DAS and give back to systemically marginalized and BIPOC communities by supporting and co-creating spaces for them to thrive in.
Freedom By Design - Church St. Public School Playground Revitalization
Community Service / Design Build Project - August 2019

Position: Freedom By Design Director 2019-2020

Toronto, ON
The CSPS Galaxy Playground Project inspires young students to reach for the stars as they play in an education-focused environment. This is the first completed phase of the Church St. Public School Playground Revitalization initiative. The worn out playground now regains a freshness and vibrancy to help stimulate creativity and learning through social and active play in physical space.
UNI Re-Imagining Play - CONNECT
Design Competition - October 2020

In collaboration with - Shumael Amir and Soma Khan

Samos, Greece
"CONNECT" is a modular system that utilizes traditional and cultural materiality and building to create a sense of identity within space. It activates the senses, helping children learn applicable skills such as collaboration, building, confidence, and communication. Children are encouraged to use the refugee camps they're situated in to explore and find objects they can add on to each module and build their playful spaces overtime.
Main Street Design Challenge - Restoring the Void
Coordinated by Canadian Urban Institute and the Royal Architectural Institute of Canada - October 2020

In collaboration with - Alexia Mereuta

Hamilton, ON

Bringing back main streets by co-creating inclusive spaces. The proposal is of a community infrastructure project that favours people taking back the street to revitalize its spaces to act as bridges between different typologies within a city. It is these diverse voids that make up the cultural and built heritage of any main street since they shaped the community around it. Using the spaces, materials, art, and values of the community already in place is an integral part of the design as it addresses both the need for inclusive spaces and environmentally responsible ones.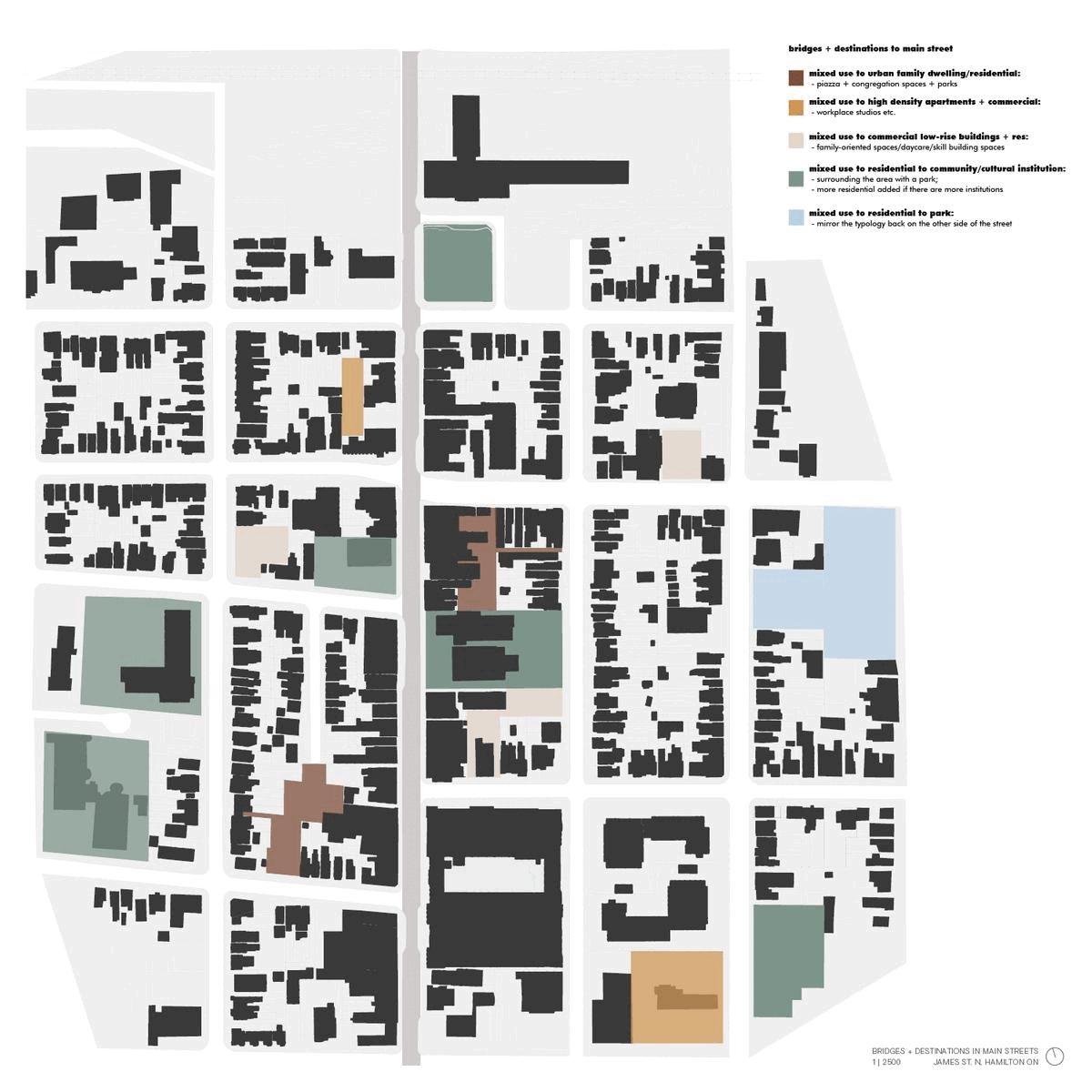 DAS - Weekend Minecraft Camp
DAS Outreach Program - March to June 2021

Co-developed and facilitated with - Horia Curteanu and Raymin Sidhar

Virtual (based in Greater Toronto Area)

Students in grades 4-7 (ages 9-12) were invited to an interactive camp that used Minecraft to learn more about design and architecture, theoretically and visually. The camp encouraged students to actively engage in designing spaces through the use of gaming as a hands-on tool for visualization and collaboration, while still maintaining a fun environment built on social connectedness and community building.
Design As Protest
Member and Core Organizer

Position: Focusing on Academic and Youth Organizing

Global

Design as Protest is a collective of designers mobilizing strategy to dismantle the privilege and power structures that use architecture and design as tools of oppression. Co-organized by BIPOC designers, we exist to hold our profession accountable in reversing the violence and injustice that architecture, design, and urban planning practices have inflicted upon Black people and communities. Design as Protest champions the radical vision of racial, social, and cultural reparation through the process and outcomes of design.