SANG-KYU JOO • GABRIEL GAROFALO • NOAH ANTONI RYZEWICZ • MATTHEW CHETCUTI • TANYA SVITAK • YAN GAO • JULIA DI GIORGIO • SOFIA CERASUOLO
Interweave
Making Support Services Joyful + Engaging
Themes

- Community
- Social Spaces / Infrastructure
- Support Spaces
- Affordability of Living
- Identity of Neighbourhood
- Visibility of Services

Design Principles

- Vibrant
- Light weight
- Mobile
- Accessible
- Recognizable
- Multi-use

Thesis

How might we create community growth and social interaction through informal spaces which allow for social and economic infrastructure to be generated?

How might we provide a space for seniors that combines safety, community and emotional/financial well-being in an easily accessible manner?

How might we reintegrate homeless youth of marginalized
groups within the community, while encouraging leadership,
and financial safety?

How might we promote and provide services to insure comfort
and well being of new immigrants in the community?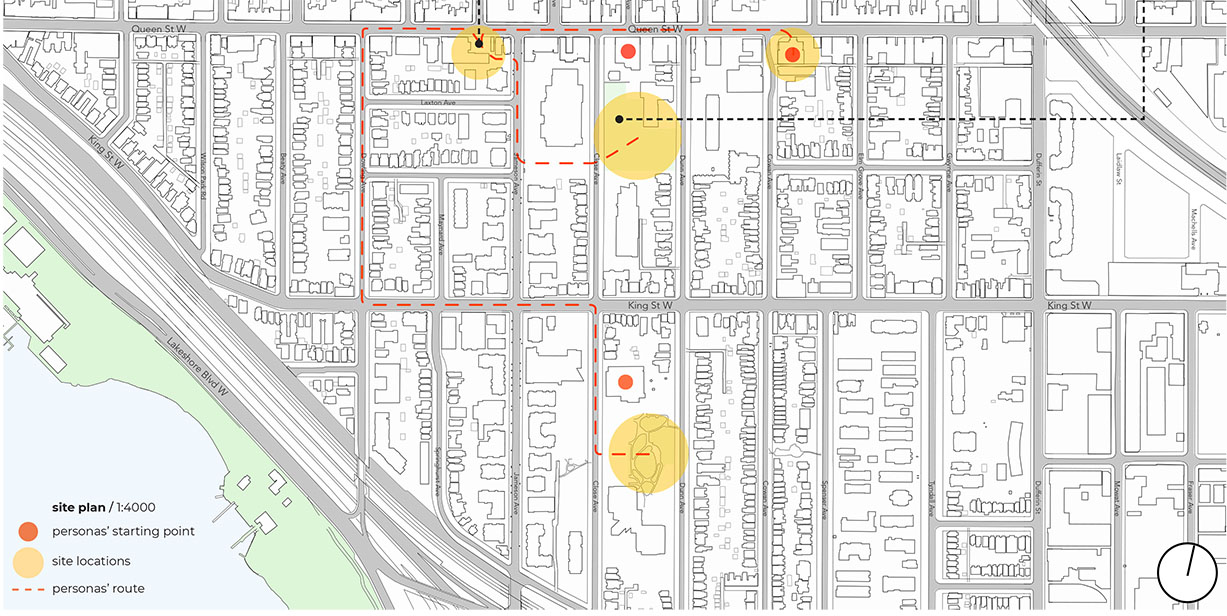 The petals of a flower and the leaves of a fruit tree serve many purposes. These curved element of nature absorb energy and nutrients to help their fruit flourish. The flower petal also protects the pollen within from various disturbances in its environment. The vibrant colours of flower petals attract pollinators encouraging the spread of nutrients within their ecosystems. Borrowing from this phenomenon as a form of biomimicry, we were inspired to carry these principles into a design language.

Through working with various personas of Toronto's Parkdale
Neighbourhood, we came to conclude that there are a wide range of cultures, demographics and forms of life. However, each of these groups appear to have similar aspirations for their neighbourhood. Similar to a flowers symbiotic relationship with bees, butterflies and hummingbirds, each of which have crucial roles in their shared environment. By creating a system, program and informal structures, we are intending to insight the symbiotic relationships that potentially preside in Parkdale.

Our design concept consists of modular curved panels that can be arranged to create informal shaded social spaces. These panels can for large and small canopy spaces throughout central Parkdale. Their vibrant colour and memorable form are aimed to attract and invite the community to gather.

By targeting groups of need such as seniors living alone, new immigrants within the community and low-income youth of minority groups we strive to bring them together to create an interweaving of culture, age and abilities. This relationship aided by the design we propose can strengthen and form social resilience in the Parkdale neighbourhood for years to come.


Amala is a senior citizen that resides in the Lakeside Long Term Care Centre
on Dunn Ave in Parkdale. She lives alone and does what she can to feel independent. She is strong minded and follows values rooted in her Tibetan heritage. She is very talented at knitting and weaving as she once worked at a carpet weaver when she was young. She still finds time to work her hands and sew. Amala's time spent alone causes her to feel lonely and isolated. She strives to get out into the community more and talk to people about her story and feel like she is needed.

Ever so often Amala walks around the nearby park just outside the Long Term Care Centre. As she approaches the park she sees large canopy structures filled with young and old members of the community. A young volunteer asks her to join the other in social events and crafting activities. Amala is excited and is then told her work will be on display at the market on queen street.


Daniel comes from a low-incomefamily and has a troubled relationship
due to his identity for being part of the LGBTQ2+ community. Due to his conflictwith his family, Daniel has been kicked out of his home. He has been on a journey of searching for a place he can reside in repetitively and wants to one daylive independently. However, the neglect from his parents due to his identity hascreated doubt about him. He became more and more hesitant overtime to expose himself to ask for help in-person. After the day in school, Daniel plans to visitParkdale Public Library on Queen Street to use a computer to see what he cando or receive support that would make his desire into reality as a stepping stone.

As Daniel visited the public library, helearned that the facility also functions as
a community information center of the Parkdale. While he was not interested andlooked to see if a computer was available in the building, he was greeted by the volunteer to answer if he was interested in joining the current community activity. Danielwas persuaded by being able to use the experience in his work resume and howhe may have the opportunity to meet new people, even perhaps those who identify as part of LGBTQ2+. Daniel decided to join the activity to see if he can learn theirstories and become friends with them.

Raj has recently moved into a unit inan apartment's basement in South Park-
dale, Toronto. Finding a place to settle in a foreign country with a language he didnot fully understand was challenging. Raj soon understands the dire situation afterovercoming the challenge of moving in, that he needs to learn English as soon aspossible. But who can he rely on to ask such a question? He is determined to continue to live in Canada but is new to this community. As thinking of a solution alone in his new home would not resolve anything, Raj decides to take a walk aroundin the neighborhood to get some fresh air.

As Raj walks down on Close Avenue,he hears a bustling noise from afar. His
curiosity to better understand his neighborhood guided him to the source of thesound. As Raj gets close to the place, he sees groups of lively people gathering infront of interestingly shaped stands. He introduced himself with broken Englishand was greeted with a warm welcome. Despite the trouble, Raj understood thatcommunity centers are hosting a community sharing pavilion in Parkdale forsocial exchange and to gain work experience in Canada. He takes this opportunity to see if he can create a social network in this community and searchfor anyone with the same background.
Raj, Daniel, and Amala, as well as other volunteers and visitors, all meet at the parking lot near the intersection of Macdonell Avenue and Queen Street West, where the community activity is taking place in the pavilion. While Daniel is supporting the media team to spread awareness of the event in Parkdale that the community can freely visit, Raj and Amala began creating arts and crafts with the supplies provided. Despite the language barrier, Raj was comfortable
working with Amala as he has experience helping seniors thanks to his background. Amala praised his support and gave bits of advice from her experiences in living in Parkdale and Canada. As time passed, they began to feel connected to each other about something they both lacked.
As the pavilion opens, Amala and Raj are joined by Daniel, which his work in the media team has finished. Although they are not in the same age group or the minority group, Amala and Raj welcomed him and his identity. They shared more stories and talked about each other, even with the customers while doing business, which allowed the people of the community to learn about them.
As the people of Parkdale visited the community sharing pavilion, the business went well. Raj, Daniel, and Amala found the experience to be profound, something that would not have been possible if they were to do it alone. Voluntary activity has allowed them to introduce themselves to the community while being supportive of each other. Despite their differences in background, age, and circumstances, they learn that they can rely on Parkdale's community for their physical and emotional well being.
After Amala experiences the social gatherings she has made new friends and feels the power of their support. Every week she meets at the pod locations to talk to the younger generation and work with her hands. She now feels a new sense of purpose, as her stories are inspiring to the young and her craftwork is appreciated by the community. When walking around the community Amala calls on Raj to help her, he uses his healthcare background to walk with her safely. She no longer feels isolated and is now aware of the programs the community has in place. Daniel brings Amala to the new tech hub at the Public Library to help her contact her younger family living in China. She enjoys telling Daniel about her youth and her early years in Canada.

Daniels' self confidence thrives as heis seen as a valued volunteer within hiscommunity. The impact of working with other members of the community thathave struggled in some form or anotherhas taught him new values. Hearing Ama la and Raj's stories of restarting life with
nothing, resides with him. His positionas a minority within the community hasbecome much less of an isolating factor. His love of technology has been spreadto younger and older generations as wellas the new members of Parkdale. Daniel builds his resume and connections withgoals of landing a decent job. A local shopowner hires Daniel to manage their online marketplace and social media platform.

Raj returns to the market frequently as he can, as he now works at a nearbynursing home as an attendant. He gained this employment after volunteering andsharing his story at the market. An employee from the nursing home who also volunteers heard about his past experience withhealthcare in his previous country. Amala'sstory had a real impact on his life, as henow knows he is not alone in the strug-
gles of immigration in Parkdale. Raj talkswith Daniel often, as they chat about howto use online resources and websites that may help Raj stay connected and up to datewith the community and living in Canada.